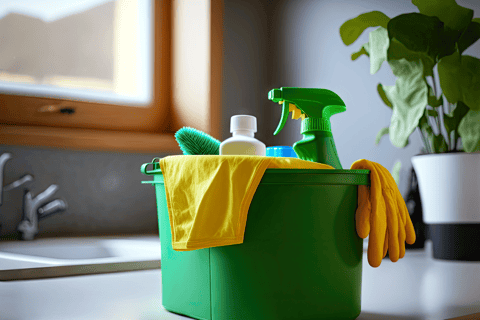 If you work in building management, you're probably acutely aware of the challenges faced when trying to keep up with modern cleaning demands. The recent Covid-19 pandemic has led to a huge increase in the demand for cleaning services in the region (up 95% in the first year of the Covid-19 crisis). At the same time, COP28 taking place in Dubai and the nation's wider environmental goals as set out in the ambitious and wide-ranging Vison 2030 plan, have served as a pertinent reminder of the importance of sustainable business practices.
The sheer breadth of sustainable cleaning products, practices, and technologies is a surprise to most people. Keeping up with what's on offer, especially when it comes to technology, can be difficult if you don't know where to start. However, the benefits of following a greener agenda in building cleaning and maintenance far outweigh the challenges.
What is green cleaning, and what does it involve?
Green cleaning uses a combination of planning, purchasing, and execution to minimise environmental impact across the entire cleaning and waste management cycle. By choosing products that keep sustainability in mind throughout the product lifecycle, and using eco-friendly planning and practices within the built estate itself, building managers can improve efficiency and reduce waste by 20%. It's a way to protect your bottom line and the planet at the same time.
There are a few key elements essential to any sustainable cleaning plan:
Non-toxic and Biodegradable product choices: "Eco" and "green" cleaning products have been increasing in popularity for some time. Not only are these products better for the environment; but they also promote a healthier environment and eliminate the need for cleaning staff or building visitors to come into contact with potentially hazardous cleaning products.
Sustainable resource planning and effective resource conservation: Using a combination of computer modelling, building access data, common sense, and experience, it's possible to create cleaning schedules for large facilities that maximise effectiveness while reducing unnecessary activities. Things like using concentrated products and adding water to them on-site impact everything from transport costs to employee health.
Choosing the right equipment: Picking more energy-efficient versions of powered equipment, steam cleaning high-risk areas without additional chemicals, or choosing to use microfibre cleaning cloths that need little more than water to work – these all form a vital part of a program to meet environmental obligations in 2023 and beyond.
Staff training and support: Staff and managers need the right training and advice to get the most out of an eco-cleaning plan. From making the most out of specific products to choosing the right equipment; even planning routes for cleaning staff around larger buildings and sites – These small, iterative improvements and knowing how to make the most out of what you have can make a big difference when combined into a single strategy.
Built-for-purpose technology & software to boost planning, interim outcomes, and ultimately your bottom line. The latest smart building technology can harvest vital insights from a building's usage patterns to allow building managers to use their resources to the best possible effect.
Does it really make a difference if FM companies choose green cleaning?
At Imdaad, we would argue that they do. Here are just a few reasons why:
Healthier for cleaning staff and building users: Without exposure to potentially harmful chemicals during the cleaning process, health risks to cleaning staff and building users are dramatically reduced.
Reduced environmental Impact: Using cleaning products that are specifically formulated to reduce or eliminate harm to the environment, our precious landscapes and wildlife are kept safe for future generations.
UN Sustainable Development Goals: Adopting eco-friendly cleaning practices is an essential part of meeting the environmental sustainability goals at national and international levels. Meeting these goals demonstrates a commitment to protecting the environment on a global and local scale.
Take a more active part in the UAE's Green Agenda 2030: The UAE has been taking an active part in protecting the planet on a global and local scale. Hosting COP28 is yet another demonstration of the country's commitment to a more eco-friendly society.
Lower overheads, and reduced quantities of waste and pollution: While many "eco" cleaning products are marginally more expensive than their traditional counterparts, they also tend to be more effective and more concentrated. Overall reductions in transit costs and multiple uses for a single product also help boost green credentials.
Making the most out of your green cleaning plan
As a building manager, you will already have spotted that a few weeks or months of focusing on the problem will barely scratch the surface when it comes to creating a thorough and effective environmental policy.
Creating and enacting a sustainable cleaning plan that integrates all of this can take a lot of dedication and experience. Using standards like the EU "Ecolabel" and ISO 14001 (Environmental Management and Systems) offer in-depth information on best practices for eco-friendly industrial cleaning.
Whether you choose to enact these practices in-house or decide to outsource to an experienced green cleaning provider, the sooner you get started on your green cleaning agenda, the better it will be for the environment.
To speak to Imdaad about greener facilities management services for your building, contact us.