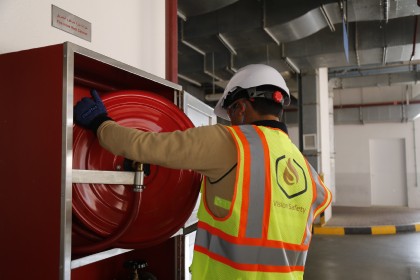 According to the Ministry of Interior, over 2,000 fires were reported across the emirates in the UAE last year. Although most were limited and minor, around 66% were in residential buildings, and the number of blazes in residential units, including villas and apartment blocks, increased by 8.4 percent from the previous year. The major causes of fire in residential units come from the kitchen, although smoking, burning incense, improper storage of flammable material, and inappropriate electrical equipment are also major contributors to fires at home.
Awareness of fire safety regulations and negligence
In the UAE and worldwide, the leading cause of fires at home comes from unattended cooking. The kitchen is the most common place for fires in residential units to start, and cooking is the spark that usually starts it. The kitchen is also where a lot of flammable materials are found in the home, and their proximity to fire and heat sources contributes to the rapid spread of fires throughout a residence.
A good starting point for preventing fires is to keep a clean kitchen and stovetop, free from any accumulation of grease, cooking oils, or other flammable materials. Make sure that you have a working smoke alarm, fire blanket, and fire extinguisher. These need to be from a reliable supplier, and they should be checked on a regular basis. Flammable materials such as cooking oils should be stored properly and away from fire or heat sources. To prevent fires in the kitchen while cooking, stay in the kitchen and remain vigilant whenever frying, grilling, or using an open flame source for cooking. Do not leave the home if you are cooking anything and use a timer to remind you of items in the oven if they are cooking for long periods of time.
In case of a fire, turn off the cooker or oven first, and cover the fire with a fire blanket if you have one. Use the appropriate fire extinguisher if you are confident that you can control the fire and that you can do so safely. If you feel that it is getting out of control, leave the kitchen, raise the alarm, make sure that nobody is left at home, leave, close the doors to control the spread of fire, and wait for the fire authorities. They will need to know if anybody is on the premises, what caused the fire, and if there are any flammable substances that they should know about.
Electrical Appliances and Faulty Wiring
Electrical appliances and faulty wiring are also common causes of fires at home. Your electronics and electrical network need to be safely installed using the appropriate materials to prevent fires. These can start from old, worn out, or wrongly installed equipment and wiring, causing sparks to ignite nearby flammable materials.
The best way to prevent electrical fires is by using a qualified electrician for all electrical wiring. It is also advisable to have a qualified electrician inspect your network, especially if you are moving into or are living in an older home. In addition to making sure that equipment and wiring are safe, ensure that you do not overload electric circuits. Also, look out for warning signs such as discolored outlets, stripped wires, tripped fuses, odd smells, or irregular surges in lighting. These are indicative of issues that can deteriorate and cause fires.
Lifestyle
A significant cause of fires at home and a major contributor to death and injury from fires comes from lifestyle habits. Smoking is a major cause of fires, and smoking in bed is a leading cause of death from fires at home. It is always safer to smoke outside, make sure you extinguish smoking material completely and dispose of ashtrays after you have ensured that they do not contain any smoking ashes by dowsing them with water or covering them with sand.
In addition, the use of candles and the burning of incense are also common causes of preventable fires. The use of proper containers and holders is imperative whenever using candles or incense. These should not be left unattended and should be extinguished before sleeping or leaving the home. If you have pets, you should take into consideration that they may bump into them. Make sure they are placed where you can minimize the risk of them being knocked over and keep them away from flammable materials.
Children are naturally curious, and at some point, in their lives, will want to experiment with fire. Younger children are generally supervised, but older ones should also be monitored and educated on the hazards of fire.
Finally, deliberate acts of arson are a cause of a fire that should not be neglected. Vigilance and care must always be exercised, and surveillance of common areas in residential units and buildings should be entrusted to competent supervisors.
Imdaad Group's Commitment to Fire Safety
VISION SAFETY LLC has been safeguarding homes, residential units, and industrial facilities since 2007. As a wholly owned subsidiary of the Imdaad Group, Vision Safety specializes in the Solution provider of fire detection and protection systems, in accordance with the UAE Fire & Life Safety Code and NPFA Standard. Vision Safety provides inspection and regular maintenance services that cover all fire detection, fire protection, and fire prevention for any type of property.
Your home is your most important asset. To conduct an assessment of its fire readiness, please contact us