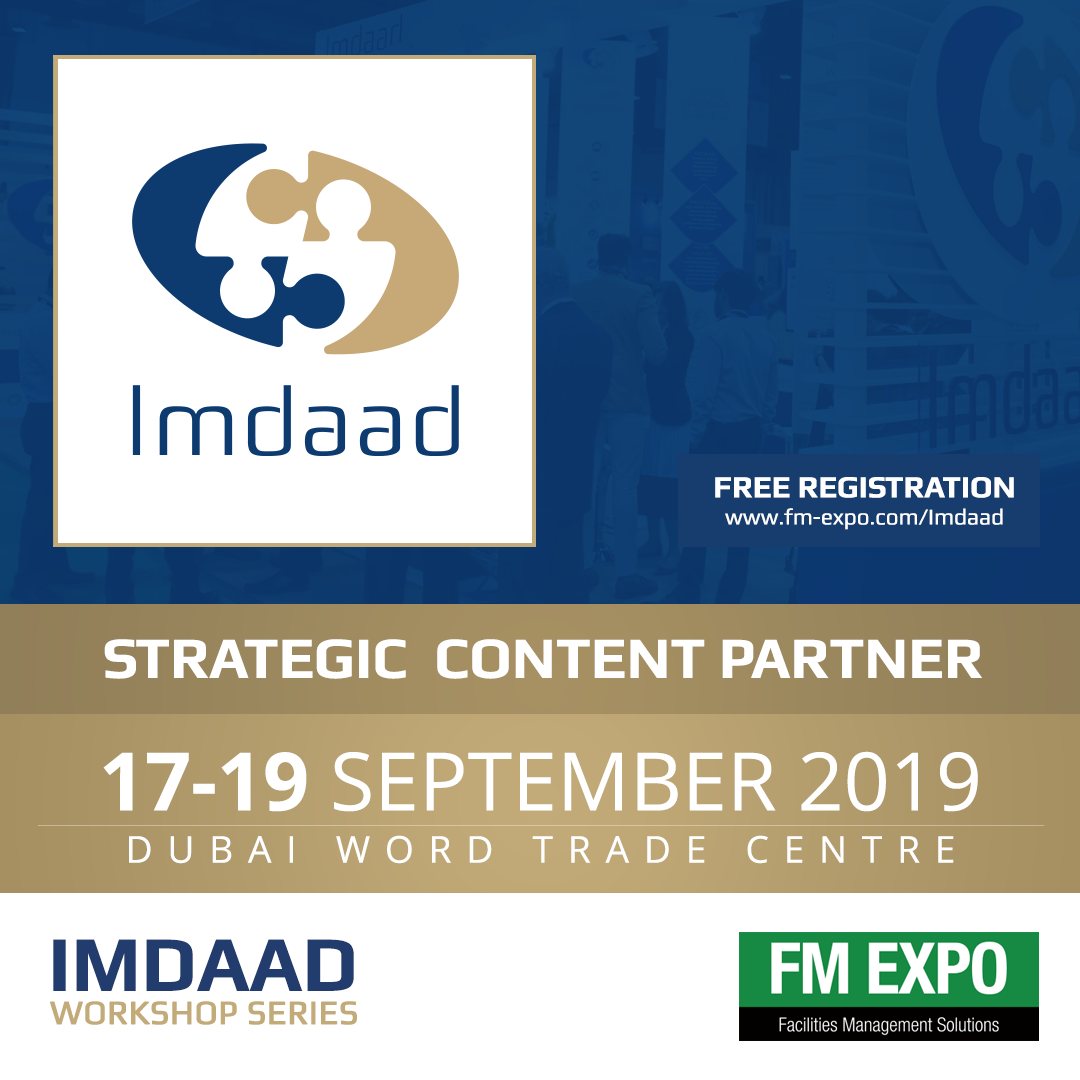 Imdaad's Workshop Series at FM Expo are sessions and panel discussions on the latest trends and challenges in the FM industry. Imdaad is the Strategic Content Partner for FM Expo 2019.
DAY 1 – 17th SEPTEMBER 2019
12pm - Technology at Imdaad
Speaker: Naganandh Lakshmanan, Director FMS, Imdaad
Discussing various technological implementations for various clients of Imdaad
Tracking and live dashboards for banking clients
Energy and data analytics implementation
Imdaad's cost effective implementation for remote chiller monitoring
1pm - Sustainable Facility Management Operations
Speakers: Eng. Subramanian Mookkaiah, Senior Manager-Facilities, Dubai Silicon Oasis Authority and Eng. Ameer Ahmed Manyar, Senior Associate Manager-Agriculture Engineering, Dubai Silicon Oasis Authority
Challenges faced in the implementation of Integrated Building Management System
Benefits of Integrated Building Management Systems
Use of Big Data and Analytics in the field of Integrated Building Management system and achieve the benefits in Energy Management, Operational cost reduction
2pm - Mind the Gap
Speaker: Craig Garrett BSc, IEng, MIED, Digital Advancement Academy Manager, Bentley Systems
The current construction industry has many divisions and silos, but there is still a huge void that exists between the two main halves that are "Design and Build" and "Operate and Maintain".
While this is not an easy issue to resolve, without doubt its in the interests of clients and especially owner/operators to resolve this and reap the many facilities management related benefits over the 30 plus years of asset operation.
Understand why we are where we are
What can everyone do to change things for the better?
What if the gap can't be filled?
3pm - Strategic Cost Modelling
Speaker: Martin Gregory, International Director Head of Facilities Management, Drees & Sommer
The value of early engagement of operational consultancy
Key drivers in cost and apportionment
Legal structures and transparency
4pm - Panel Discussion: The GCC Workplace and the FM market: Trends, Opportunities and Solutions?
Moderator: David Carey, CEO and Founder, MET Consulting - Speakers: Fahad Mohamed, Director of Facilities Management, Deyaar Owners Association Management LLC - Janet McAvinnie, Director - Real Estate Services, Mastercard - Sara Momtaz, Strategic Committee Member, MEFMA - Kulvinder Singh, Director of Facilities Management, New York University Abu Dhabi
A key challenge for FM professionals is to understand the organisation's long-term ambition and be able to respond to and enable this change. How can we anticipate these changes and influence the solutions?
This panel of customers, providers and consultants will look at trends in organisational FM requirements, highlight some of the key developments influencing FM solutions and provide insight on how FM professionals can take a leading role in enabling organisations to achieve their long-term goals.
DAY 2 – 18th SEPTEMBER 2019
12pm - FM Industry Market Pulse
Speaker: Ali Al Suwaidi, Board Member of MEFMA and GFMA
1pm - The Importance of a Common Data Environment for Facilities Management
Speaker: Carolina Fong, Digital Engineering Manager, Accienta
Keeping information integrity from design and construction to FM.
Collaborative environment beyond construction.
Data/Information use during the FM stage of a project.
2pm - Safety Risks in Facility Management
Speaker: Dr. Wim Raath, Head of Occupational, Health, Safety and Environment (OHSE), Dubai Aviation City Corporation (DACC), Dubai South
Managing Safely – Key Challenges for Facility Managers
Identify Hazards to "Keep Workers Safe"
Safety Through the Empowerment of People (S.T.E.P)
3pm - Intelligent Efficiency at Work: A Case Study
Speaker: Firas Obeido, Chief Technology Officer, Smart Automation Energy (SmartAE)
Real time and historical energy monitoring
Building Operation Optimization
Predictive Maintenance
IOT & Facility Management
4pm - Panel Discussion: The Future of IOT in Soft Services – Smart Facilities
Moderator: Benjamin Wessendorf, Business Head, Isnaad - Speakers: Andrea Deutschbein, Director FM – SFM, Emaar Facilities Management - Martin Victor Alva, Director of Digital Transformation, RazrCorp
DAY 3 – 19 SEPTEMBER 2019
12pm - Smart Districts Insights: How to Convert your District and Facilities Data into Actionable Insights
Speaker: Anwer Kotob, Director of Smart Cities Practice, NXN
1pm - World's Best Practices in Innovation - Dubai Customs
Speaker: Hussain Al Fardan, Head of Innovation Centre, Strategy & Corporate Excellence, Dubai Customs
What's our main goal in the innovation ecosystem?
How can we help other government organizations worldwide using our Unique Innovation Model?
2pm - ISO 41001 for Facilities Management
Speaker: Karen Green, EMEA Head of Product Management and Development, British Standards Institute (BSI)
Key requirements of the standard
Comparing the standard with other management system standards
What BSI can offer for assessment and training to this standard?