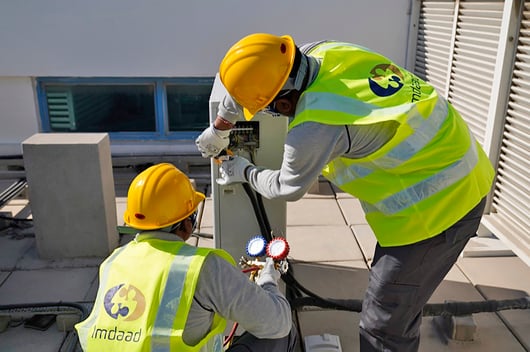 New agreement adds a range of sophisticated specialized services and solutions
to be delivered at leading financial institution's premises throughout the UAE
Imdaad has recently signed a three-year contract with Emirates NBD, a leading banking group in the MENAT (Middle East North Africa and Turkey) region, to provide a full spectrum of hard FM services and specialized solutions at branches and offices across the UAE.
Imdaad's highly-trained and experienced professionals will deliver a range of innovative and market-leading solutions to enhance the visitor experience at the financial institution's premises across the nation, which encompass a total area of 305,670 square meters.
Under the terms of the agreement, Imdaad will provide Mechanical, Electrical and Plumbing (MEP) services, together with an array of specialized services including the maintenance of elevators, escalators, diesel generators, external signboards, Building Management Systems (BMS), Building Maintenance Unit (BMU) cradles, chillers, revolving doors, turnstile doors, sliding doors, shutter doors, and gate barriers.
Jamal Abdulla Lootah, Group CEO of Imdaad, commented: "Imdaad's reputation as a leader in the facilities management arena continues to go from strength-to-strength with the signing of our new contract with Emirates NBD. The agreement builds on our existing six-year relationship and further enhances our standing among clients within the UAE's financial sector. It is particularly gratifying to secure such a significant renewal, as this speaks volumes about the quality and reliability of our services. We look forward to delivering our trusted FM solutions to prestigious clients in the banking industry for many more years to come."
Imdaad will deploy a special task force for the delivery of services at Emirates NBD and Emirates Islamic locations in Dubai, Abu Dhabi, Al Ain, Sharjah, Fujairah, Ras Al-Khaimah, Umm Al Quwain, Ajman and Hatta. The company will also make use of a groundbreaking mobile solution that enables team members to receive maintenance requests in real-time, and integrates live location tracking, a user-friendly dashboard and a unique feedback process involving barcodes.