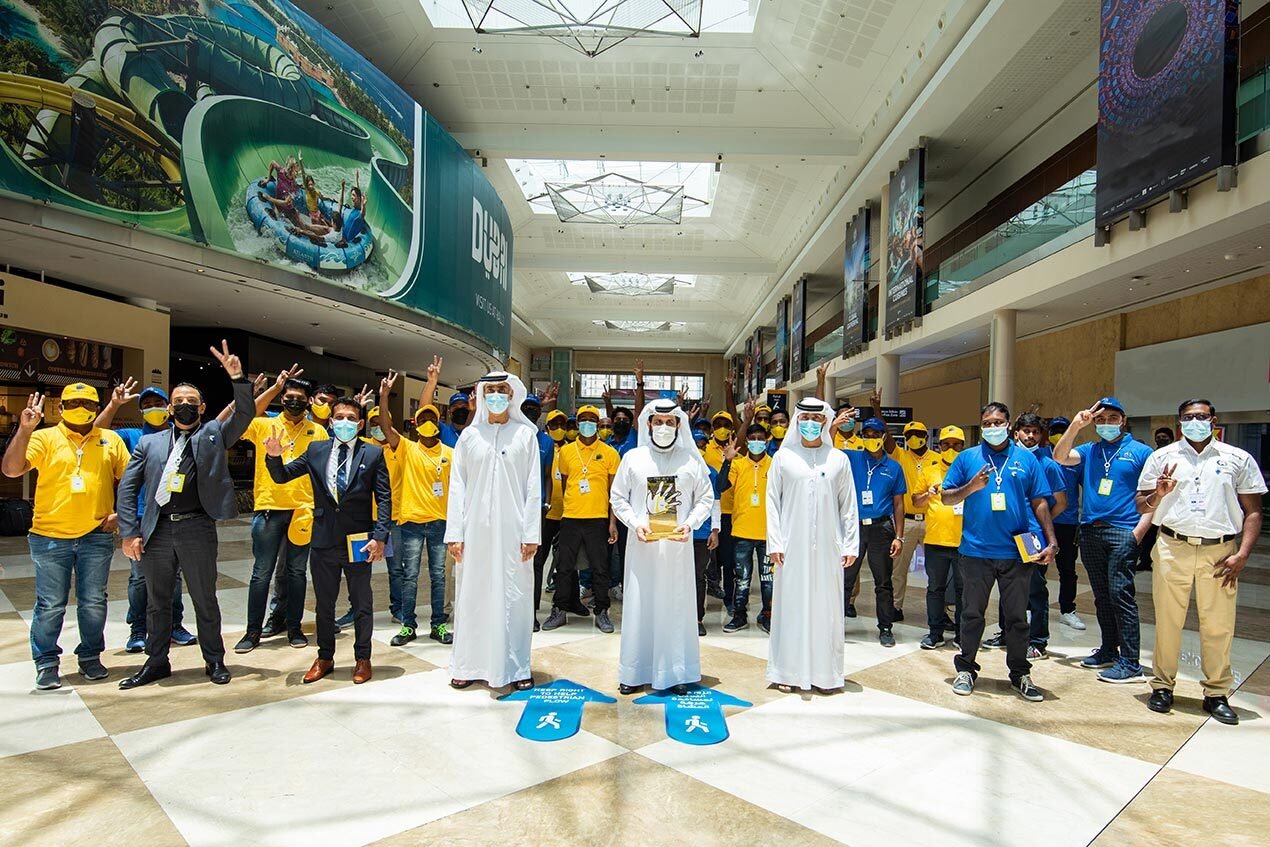 Highest ranking for the second time recognizes group's innovative programs and best practices to consistently improve employee satisfaction.
Imdaad was honoured with a five-star ranking for the second time, at the fourth edition of the Taqdeer Award held recently at the Sheikh Rashid Hall of Dubai World Trade Centre (DWTC), Dubai. In addition, three employees of Imdaad received individual recognitions for their contributions through the group towards the growth and prosperity of Dubai's economy and strengthening the reputation of the UAE.
Organized under the patronage of His Highness Sheikh Hamdan bin Mohammed bin Rashid Al Maktoum, Crown Prince of Dubai and Chairman of The Executive Council, the award recognizes Dubai firms for implementing global best practices in labor rights protection besides honoring individual workers for their noteworthy contributions to Dubai's growth and economic success. This year's grand ceremony was attended by top government officials, diplomats, business leaders from the private sector, professionals from the government and private sectors, as well as representatives of the winning companies and their employees. A total of 91 workers and companies were awarded across five categories this year. The awards were presented to the winners by His Excellency Major General Obaid Muhair bin Surour, Chairman of Taqdeer Award and the Permanent Committee of Labour Affairs (PCLA) in Dubai and Deputy Director-General of the General Directorate of Residency and Foreigners Affairs (GDRFA-Dubai)
The five-star rating recognizes Imdaad as a leading group in terms of implementing the best global practices in safeguarding labor rights and fostering an open-door culture to encourage communication and engagement between the workers and the management.
Commenting on the accomplishment, Mr. Jamal Abdulla Lootah, Group CEO of Imdaad, said: "Imdaad's outstanding achievements at the Taqdeer Award this year has been due to our exemplary measures to safeguard the rights of the workers and provide a safe and competitive working environment, especially amid the challenges of the global pandemic. I am confident this five-star rating will further strengthen our competitive advantage and help us grow within the region and beyond, in line with our strategic plans. Moreover, our people have always been an integral part of Imdaad's core values and one of the most valuable assets driving the group's continued growth and success. We are committed to further enhancing the job satisfaction of our employees and ensuring their active participation in the group's development."
Imdaad has been actively supporting the UAE government's efforts to provide a safe and healthy environment for its residents and has won several national, regional, and international recognition for its innovative services, products, and operational excellence. The group proactively engages its employees through a robust rewards program to acknowledge remarkable contributions. It also organizes comprehensive training and engagement programs for the employees, helping them to reach their full potential.