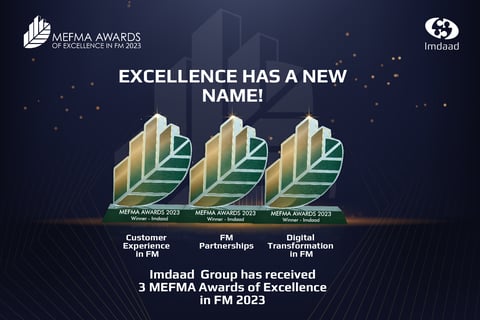 Earlier this year, Imdaad picked up a prestigious MEFMA (Middle East Facility Management Association) award for "Digital Transformation in FM". 'Digital Transformation' has become a commonly heard phrase over recent years, but what does it actually mean, and why does it matter?
At its heart, digital transformation means adopting digital technology in every aspect of a business's operations rather than in specific departments. It's not just a case of changing the technology, but also making fundamental changes to the way you operate, including cultural changes among staff. Perhaps the best way to explain is to break down how we did it.
The Imdaad Challenge
Following a period of rapid growth and several key business acquisitions over the last decade, it became clear to the company's leadership that some major changes were required in Imdaad's IT structure to keep up with the company's expansion and projected growth. Indeed, you could say we were victims of our own success!
Like many rapidly expanding companies, we'd reached a point where we were running multiple outdated systems that simply weren't talking to one another. That meant unnecessarily high operating costs with redundancy. It also made it harder for different parts of the business to share information, hampering our ability to make smarter, fully informed decisions.
Crafting A Digital Solution
To say the least, digital transformation was a major project. All told we brought together 27 business functions into a single digital operation. One key goal was to reduce the friction of any further expansion, including removing the technical challenges of adding new locations. We also wanted to prioritize our capacity for data analysis and our automation of robotic processes in areas such as maintenance.
This involved three major areas of change. The first was adopting Oracle Fusion's technology for cloud computing to bring everything together. To give an example of the scale of operations, we now have 283 real-time dashboards that provide information that previously required somebody to produce a manual report whenever we had a query.
Transitioning to this solution was a three-year process, lengthened partly by the lifecycle of many of the software packages we used. Bringing everything together means we can now carry out major upgrades to software as often as every three months without significant disruption.
The second change was adopting an SD-WAN (software-defined wide-area network). This takes the basic concept of a multi-site network but separates functions such as security and control from the physical hardware.
This removes the need to route all traffic through a specific location (known as backhauling) regardless of its destination. In turn network traffic becomes more efficient and allows greater control, for example, to prioritize certain types of data. We can also add new sites to the network in under a week with less time spent on configuration and integration.
Finally, we better automated our business intelligence. That made it easier to analyze historical data and get genuinely useful insights into the impacts of specific investments and improvements. We can now make decisions based on more analysis and fewer assumptions.
Behavioral Change
While digital transformation is a technological process, it's also a behavioral change. To give just one example, we changed the way we schedule maintenance to be more proactive and need-driven. That meant staff being more flexible about operations.
Such changes can be challenging, but the process proved that training, communication, and support are the keys to a smooth transition.
Results
Our digital transformation proved a major success, both objectively and subjectively. To put give a few hard figures, take maintenance. We moved away from carrying out maintenance of our physical assets on a fixed schedule while fixing faults when we noticed them. Instead, we used real-time monitoring to highlight faults and potential problems and now carry out proactive. This has led to:
a 20 percent reduction in asset downtime.
a 15 percent increase in asset lifespan; and
a 25 percent reduction in routine maintenance time.
We've also used this integrated monitoring to give clients real-time updates on service requests.
Our work did not go unacknowledged. Each year the Middle East Facility Management Association (MEFMA) holds awards for the industry recognizing "key achievements and outstanding contributions". At the 2023 ceremony we not only took the prize for the best digital transformation, but we were also among three category winners who were put forward to represent the Middle East in the Global FM Awards of Excellence.
Conclusion
Imdaad's digital transformation has been a long and challenging process and a significant investment of time and money, but the results make it all worthwhile.
The key now is remembering that digital transformation is not a one-off process. Instead, we're committed to a continual cycle of improvements and developments that will help us continue to be as effective as possible, both for us and our clients.