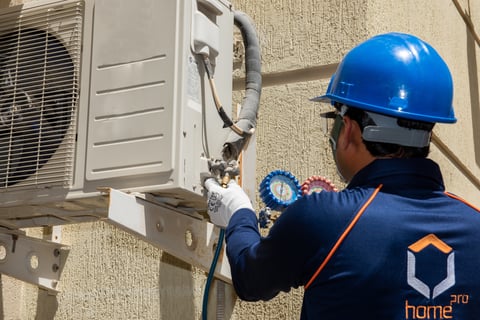 With almost 90% of the UAE population being from overseas, you are far from alone when you buy a home here for the first time. Amid the natural excitement, many new homeowners are surprised to find very different maintenance needs from what they expected. Most people find out very quickly that being a homeowner and being responsible for all the maintenance is very different from renting. Trying to source service providers as and when problems arise can be challenging. Here's what you need to know and do.
A Challenging Environment
While everyone enjoys the number of sunny days in the UAE, you may not fully appreciate how much of a role can play in your home's upkeep. Heat, humidity, and dust can combine to put significant stress on buildings and infrastructure.
Whether it's strong sunshine beating down on exterior paintwork or dust and damp compromising air conditioning systems, protecting and maintaining your property can be more complex than in other regions. Many tasks are beyond the scope of even experienced home DIY enthusiasts: getting things wrong could compromise your day-to-day comfort.
To add to the challenge, dealing with problems isn't always straightforward. It's not always easy to find the right provider for the right job, let alone be confident that they have the right experience and offer a fair price.
Home Admin
You'll need to take several steps to keep on top of home maintenance in UAE:
Build up a list of trusted service providers, either from your own experience or recommendations from friends and colleagues. (You'll need to check if these providers are still active over time.)
Put together a home maintenance checklist of equipment and features that require regular maintenance to reduce the chances of problems.
Build up a schedule for maintenance so that you don't miss any tasks. Make sure to source providers and make appointments in plenty of time.
The One-Stop Shop
Newcomers to the UAE may not be aware of a popular solution to these challenges: the maintenance contract. This means paying a monthly fee for a company that offers both preventative maintenance and fixes for any issues. Not only does this reduce the likelihood of problems, but it removes the hassle and delays of finding the right person to deal with anything that does go wrong. Usually, these providers offer a range of packages depending on your property setup and what home maintenance services you want to include. Most commonly these services will cover all services and maintenance for the plumbing, electrics, and AC units in your property. We'll note a few of the most common services in the rest of this guide.
Air Conditioning
In many parts of the world, air conditioning is considered an optional pleasure or even a luxury. In UAE it's often essential and a system that breaks down during the summer months when you need it most is no joke. As we mentioned earlier, both dust and humidity can compromise performance and even cause HVAC (heating, ventilation, and air conditioning) systems to overheat and shut off completely, making your home very uncomfortable.
As well as routine servicing, a maintenance company will carry out regular checks for leaks and operating efficiency. Depending on your equipment, they will also need to replace or refresh filters regularly to avoid clogging which can not only damage performance but could even mean a build-up of pollutants.
The good news is that regular maintenance will not only extend the lifespan of your system but also cut energy costs by making sure it works at full efficiency.
Water Use
The combination of heat, low rainfall, and limited natural freshwater supplies means water is a particularly precious resource in UAE. Whether you're driven by environmental concerns or simply want to keep bills down, avoiding waste is a must for most homeowners. A maintenance contractor can help out in several ways, for example by checking for leaks and maintaining plumbing. They can also advise on, source, and install water-saving equipment like tap aerators that don't compromise your comfort, and install water-efficient irrigation systems for your garden or outdoor space. Some providers can even create systems to redirect grey water (used water from bathroom and kitchen sinks) to irrigate gardens.
Energy Efficiency
Making your home energy efficient is a great way to save on monthly outgoing and also reduce environmental impact. Given that AC is almost a necessity in the region, homeowners can take steps to make sure units are running as efficiently as possible and also make other changes around the home to reduce the need to use it so much. A properly insulated house can retain coolness for longer as the outside heat has less opportunity to get in. Double glazing and properly sealed windows and doors can significantly reduce the impact of hot weather. Also, shades and shutters on windows can make a big difference. Even something as simple as closing curtains on the sun-facing side of a house can be a huge help. Homeowners can also add smart switches to lighting to reduce unnecessary waste.
Summary
The novelty of the UAE climate may wear off rapidly the first time that heat, humidity, and dust lead to expensive and tiresome repairs on your new home. The climate's effects on your property can be significant, so thinking about maintenance rather than waiting for problems to arise, is a wise strategy. A contract with a home maintenance company such as HomePro can remove some of these headaches and give you more certainty about expenses.