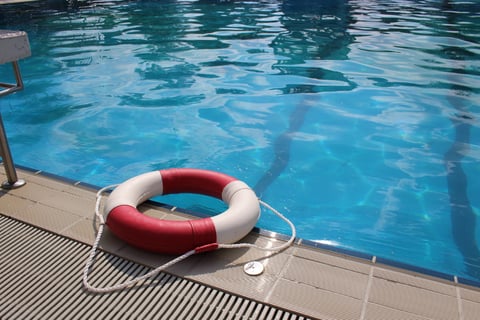 The abundance of swimming pools across the UAE is down to several factors: Excellent weather with hot temperatures in the summer, comparatively affluent lifestyles of locals and residents, and an exotic tourism industry that attracts visitors from all over the world. Beach resorts, hotels, and residential communities all see a well looked after swimming pool as an important part of their offering. The most important factor when providing a pool has to be the health and safety of its users, and having a qualified lifeguard on duty is essential for preventing accidents, dealing with any incident that may occur, and ensuring that a pool remains a source of pleasure for everybody that uses it.
Importance
Accidents can happen anywhere, but pools are a hotspot for potential mishaps due to the presence of slippery surfaces coupled with an environment of activity and play where children are often excited and active! In a recent statement, the Dubai police noted that: "International standards suggest that drowning incidents in swimming pools can happen within two to three minutes if one is not attentive enough…"1 This stresses the importance of having a professional lifeguard on duty at all times at any pool.
A lifeguard's duties are not just restricted to responding to drowning incidents. They are entrusted with the overall safety and well-being of the visitors to the pool area. In that capacity, they play an important role in mitigating risks, and ensuring that the pool area is as safe from hazards and obstacles that may cause a danger or increased risk of injury. They cooperate with other facility managers to ensure that pool temperature, cleanliness, and chemistry are maintained to set standards; that first aid kits are stocked and accessible, and that rescue equipment is adequate and placed in the appropriate locations. They also ensure that access is available for emergency medical teams if needed, and can administer CPR or first aid while waiting for emergency response services.
Qualifications
All lifeguards should be thoroughly trained in pool rescue techniques, first aid, and providing poolside assistance. Their role is generally a proactive one, where they implement preventive measures that are necessary for general safety, and oversee the proper care of rescue equipment and first aid kids. They must be trained to identify potential risks and hazards and to take the necessary initiatives to address them. They must also be trained on understanding people's behavior – especially children – and to maintain order in a way that contributes to the enjoyment of a swimming pool. In addition, they must know how to coordinate with emergency services, and to provide them with the necessary handover of a patient having conducted all the initial rescue protocols on site.
Logistics
Depending on the size of the pool, the age and profile of its users, and the volume of swimmers, different pools will require different levels of monitoring. Maintaining the presence of a licensed lifeguard on duty when you need them can be a difficult undertaking. Ensuring that the lifeguard is qualified, that they have replacements or support in case they need to go on holiday or personal leave, and that they can adapt to a hospitality, residential community, or resort setting can be difficult, especially for smaller operations that cannot handle the overhead of multiple staff to cover this important function. In addition, a lifeguard is expected to be at peak performance at all times, to be able to anticipate and react to life-threatening situations promptly. This has to happen at all times when a pool is in service.
Solution
The presence of a qualified lifeguard is essential for having peace of mind and enjoying the luxury of a swimming pool. Whether it is at one of the UAE's iconic pools and beaches, at a hotel resort, or in a more private or community setting, the presence of a licensed lifeguard is imperative to ensure safety, compliance with rules and regulations, security, and the availability of assistance to swimmers of all abilities.
As the number of swimming pools in the UAE has proliferated, so has the need for qualified, flexible, and responsive lifeguards to cover swimming pools of all sizes. Leading facility management operators such as Imdaad have been quick to respond by offering lifeguard services as an integral service within a comprehensive facility management offering for assets featuring swimming pools. Flexible timing means that pool owners can enjoy the benefits of having a pool at their convenience, knowing that pool users are safer whenever they want to enjoy the facilities.
To speak to an Imdaad expert about their lifeguard services, use this contact form.