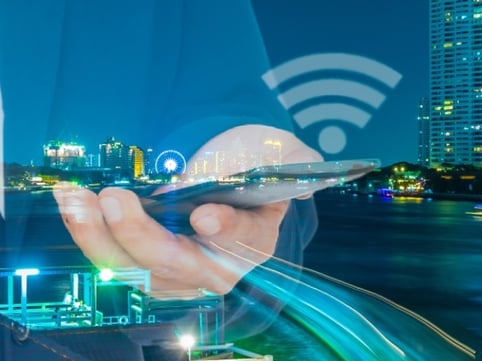 Today's advances in technology are primed to deliver to property and asset managers viable solutions that address the increasing demands needed for managing their facilities. In addition to improving operations and maintaining the highest levels of hygiene and sterility for health requirements, facility management professionals today are entrusted to manage access to their facility, coordinate with maintenance and engineering, safeguard health and safety, and create a better overall working and living environment for their users. In addition, they are expected accomplish all that while reducing costs and optimizing the efficiency of their operations. To do this, they need comprehensive data about every aspect of operations within the facility that they are handling, whether residential, commercial, industrial, retail, hospitality, or mixed use.
It Starts with Data
For this level of complexity, the Internet of Things (IoT) provides an invaluable resource for collecting and transmitting data across Hard and Soft FM functions to deliver an integrated facility management service. Sensing equipment for property monitoring is the starting point for collecting and communicating this data. This applies to new facilities, as well as for retrofitting existing assets. Advances in sensing technology, including reduced sensor size, adaptability to different usages, extended battery life, and wireless internet communications capabilities can now provide facility managers with the comprehensive raw data that they need to track facility access, analyze equipment usage, and monitor environmental parameters throughout the asset. Discrete sensors can be installed with minimum hassle and connected to a building management system to provide accurate, real-time, and comprehensive data across different applications.
Understanding and Using Data
This data is essential for maintaining visibility on the overall facility and the management of the resources needed for its effective operations across its lifespan. To make sense of this data, Artificial Intelligence, Machine Learning, and Big Data provide advanced analytics that allow facility managers to optimize operations, anticipate maintenance and repairs, adjust staff schedules, and enhance energy savings. In addition, most of these functions can now be done remotely and via mobile devises without the need for staff presence, thereby reducing the need for physical contact and proximity.
In the new normal, remote work and hybrid models are also adding to the complexity of understanding the dynamics of workers and their requirements for space usage. More space is needed for social distancing, and yet, less is needed with the reliance on remote or work-from-home models. Hot-desks, meeting rooms, and common areas are expected to be sterilized between uses. Sensor based monitoring and visitor management systems track asset usage and can be used to schedule cleaning and sterilization services as and where needed. They are also used to regulate temperature and energy distribution throughout workspaces, affecting savings ranging anywhere from 15% to 40%.
At the upper end of sensing technology is robotics. Here, automated drones can also be relied on for asset monitoring, as well as for automating routine services such as vacuum cleaning, window washing, and grass cutting. Robotics have become a viable solution to handling routine tasks with difficult access and can be integrated to a smart building management solution to compliment existing infrastructure or to better perform tasks requiring repetitive actions.
Leveraging Communications
Upgrading facilities management has become an imperative for any asset – not just new smart buildings. Retrofitting existing capacities is considered essential for providing services efficiently and economically. In addition, to collecting and analyzing the data, storing it using cloud-based technologies has become essential for sharing information across different custodians ranging from housekeeping, HVAC, and MEP maintenance, building and municipal inspectors, as well as fire and safety teams. Coordination between different parties and sharing common access to information are indispensable for managing the complexities of any facility catering to large numbers of users.
Reporting on the compliance of a facility to building and municipal standards has also become more stringent, with investors looking at facilities management as a key constituent in the valuation of an asset. Alongside traditional financial parameters, energy usage, efficiency, and environmental impact are regularly relied on in decision-making. An asset that can monitor, understand, and respond efficiently to environmental changes, usage variability, and user feedback have a technological edge in making them more attractive for living and working, as well as easier and more economical to manage, thereby affecting the overall value of the property.
Technology Leadership
At Imdaad, we have been pioneering innovative practices in facilities management since we started operations over fifteen years ago. We are proud to be certified to ISO 9001, ISO 14001, ISO 50001 and OHSAS 18000 standards since 2006, and have won over thirty prestigious industry awards, making us the partner of choice for the care, management, and upgrade of your facility management requirements to the highest, most suitable standard for your needs. We operate in accordance with the most stringent international standards and apply the latest technologies to facilities management to ensure that your asset is working at peak efficiency. We evaluate the latest available technologies, conduct an assessment on where they can be applied with tangible benefits, and design an optimized solution for asset owners and managers for reducing operational costs and improving the overall quality of living and working at their facility.
Disruptive technology has made its way to facilities management; not for the sake of adding more technology, but for the business sense it makes to adopt it to improve service while reducing costs. By using technology as part of an integrated facility management function to track usage, gather data, analyze information, optimize operations, automate functions, and facilitate communication, managers can design the most appropriate system to provide users with a healthy, safe, clean, efficient, and environmentally friendly ecosystem.
Making it Happen
The technology disrupting facilities management is here. Applying it, however, requires a combination of skills from different experts. At Imdaad, we combine the necessary skills, experience, and knowledge to make that transition. It starts with an in-depth assessment of requirements, an audit of available resources, and a review of the outcomes that can be achieved. Once these parameters are understood, designing the right program leveraging the most appropriate technologies can be tailored, and includes a clear Return on Investment (RoI) for the asset. Implementation and testing are conducted before transferring the program to the asset manager, with support readily available as needed.
To upgrade your facilities management with Imdaad, all you need is to contact us