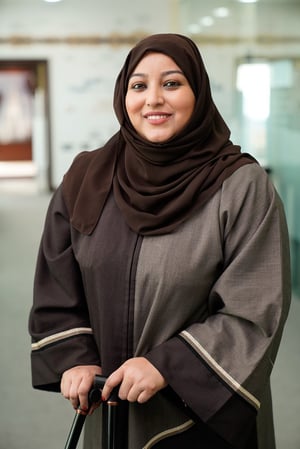 Asma Almulla
Associate Director of Procurement at Imdaad
"The human mind is like a parachute. It functions only when it's open"

Following a decade of experience in the oil and gas industry, Asma was looking for something more challenging in her career and that's how she found her way into Imdaad to work as the Associate Director of Procurement. Asma is one of few Emiratis in leadership roles in the facilities management industry. She holds a master's degree in Business Administration with a focus on Leadership, as well as a bachelor's degree in International Business and Economics.
In her role she heads a team of procurement buyers and takes charge of the company's inventories. She makes it her priority to secure the best products and services for the organization in an ethical and efficient manner.
She is currently working on an initiative to educate teams in other departments about the key role played by the procurement department in the growth and efficiency of operations at Imdaad.
Asma feels Imdaad is the best place to be in this industry as it empowers her to speak her mind and appreciates the experience and knowledge she brings in to the business.
When she is not busy at work Asma likes to read books, visit museums, and travel with friends to countries that are rich in culture and history. She is fascinated by how culture shapes most of people's behaviour.
She enjoys reading autobiographies and she recommends everyone reads My Vision by His Highness Sheikh Mohammed Bin Rashid Al Maktoum.
Asma believes the human mind is like a parachute. It functions only when it's open. She approaches everything and listens to everyone with an open mind and that's her key to success.
Her advice to women starting out in this field is to be quick to learn and adapt. Asma believes that facilities management roles are always in demand since Dubai is an ever-growing metropolis and will always need brilliant people to manage its facilities.



Amany Mohamed
Customer Relations Manager at Imdaad
"Happiness is a choice"

You don't hear of many people who enjoy the role of customer service, especially in high demand and expectation environments like facilities management. That's not the case with Amany. Her passion for customer service started long ago at a call center when she helped an old man with something technical in a Microsoft product. With her genuine love for helping people and going the extra mile to a make a difference, she has earned her way in customer service from an agent, to an analyst, to heading teams, to ensuring quality, all the way to become Customer Service Manager at Imdaad.
Amany holds a Post Graduate degree in Marketing in addition to a B. Com. in Accounting. She is certified in customer experience, Lean Six Sigma Green Belt, a quality coordinator and internal auditor for ISO certifications, and EFQM assessor for Government Business Excellence Awards.
She is currently working closely with other departments in Imdaad to enhance customer experience and cope with the latest technological trends in the industry.
Amany is a keen advocate of animal rights, as well as social, and humanitarian work. She aspires to build her own Non-Profit Organization to provide shelter for stray animals.
Career growth in her field is also high on Amany's agenda. She is inspired by Marissa Mayer who was the first female employee in Google and grew all the way to become the youngest CEO in Yahoo.
Amany enjoys working at Imdaad because she feels empowered to excel in her role and help the company grow.
You'll find Amany always smiling because she believes in being positive. Her motto in life is: Happiness is a choice. Her advice to women starting out in this industry is to never be afraid. There's nothing that they can't do. They'll get to shine anywhere.



Grace Normoc Empe
Area Manager, Isnaad
"Never stop learning"

There was a time in Grace's life when she was changing into three uniforms in a day. One for a restaurant job, one for her school of hotel and restaurant management, and one for an on-the-job-training mandated by the school. A single mother, deeply inspired by her own mother, Grace worked hard to earn her stripes.
She started her career in Dubai with a job at Dubai Airports where she excelled and shone to then earn consecutive jobs at reputable property and facilities management companies. Grace is Area Manager at Isnaad, the soft services unit in Imdaad, where she leads a large team of workers and ensures that all the daily KPIs are met with no fail.
Having filled all the various roles in soft services in her life and having had the right training with her B. Sc. in Hotel and Restaurant Management, Grace approaches every situation with a wealth of knowledge and experience.
Grace is currently busy working on One Central, a premium mixed-use development by Dubai World Trade Center, and ensuring optimal levels of service.
She feels empowered in Imdaad because she is always heard and given the space to trust her instincts and make the right decisions.
Her advice to women starting out in this industry is to learn quick and visualize what they're trying to achieve; take every hardship as a blessing and an opportunity to learn. There's always a second chance.


Ana Myrie
Site Supervisor, Isnaad
"Anything can be achieved with the right attitude and mindset"
Ana leads a team of five people working at Al Seef on Dubai Creek. Ana's team take care of the cleanliness of the Heritage section which is frequented by a lot of tourists.
Ana has had a long experience in housekeeping at various properties. She is a vocational graduate from Mindanado State University in the Philippines.
She feels empowered at Imdaad especially with all the training she received at Isnaad to help her succeed in her role. She got her BICSc training and certification, team leadership skills training, as well as First Aid training.
Ana aspires to build a great future for her kids by empowering them and providing them with good education so they can succeed on their own.
She believes in taking ownership of one's success and that the moment you take responsibility for everything in your life is the moment you can change anything in your life.
Her advice to women starting out in this field is be self-motivated first in order to motivate others.
Sumitra Kumari
Supervisor, Isnaad
"Learn how to work with others"
Sumitra leads a team of 14 people who take care of the cleanliness of vital areas in the Deira Waterfront Market such as the vegetables section, the main entrance and reception, and the west bazaar. She also works closely with the waste management team from Imdaad for the daily collection of waste.
Sumitra has been with Imdaad for over five years and prior to that she worked on various facilities including schools, hospitals, government agencies, and NGOs both in the UAE and in Sri Lanka where she is from.
On her weekends she enjoys music, cinema, and learning Arabic.
Her advice to women starting out in this field is to master the skills, learn how to work with others early on and be a team player.